Apple certainly is the most talked about tech company on the internet. With a unique charisma and a real charm in whatever it does, the Cupertino giant manages to stay in news 24×7x365. An interesting observation (and really surprising to me) at Mashable shows how Apple beats the rest by a huge margin in Social Media conversations.
Consumers talk about their favourite gadgets, the gadgets they own and their dream gadgets. Apple scores with its touch of class in everything it does, right from designing the product to its features / usability. Another shot below shows breakup of Apple products (no doubt - iPhone leads).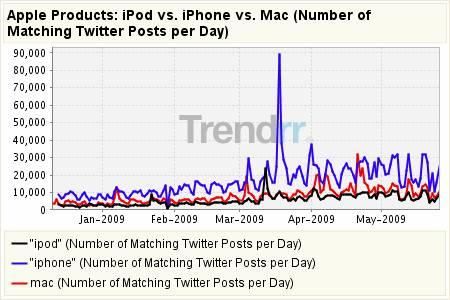 The individual peaks for Mac, iPhone and iPod in the above graph is on days when some product related announcement / launch was done.